About the Long Night of Arts & Innovation
The 2012 Long Night of Arts & Innovation was inspired by the Long Night of Science in our German sister city, Erlangen.
The inaugural Riverside
Long Night of Arts & Innovation
was held on Thursday, October 4, 2012. The event's 451 presentations ranged from an Instrument Petting Zoo to a lecture/demonstration by noted University of California, Riverside MacArthur genius award winner professor Cheryl Hayashi.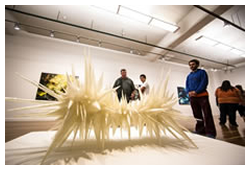 The 2017 Long Night of Arts & Innovation will take place in Downtown Riverside on October 12, 2017 from 5 p.m. to midnight.
This year's event will be bigger and better, showcasing the best STEM and creative arts projects from California Baptist University; California State University, San Bernardino; La Sierra University; Riverside Community College District; University of California, Riverside; Alvord (AUSD); Jurupa (JUSD); Riverside (RUSD) school districts, and many private schools. The 2017 event will also feature the most innovative technologies deployed by companies like Bourns Inc., Siemens, SolarMax Technologies, and the fire and police departments of the city of Riverside.
Among the other 2017 highlights will be:
UCR Professor Cheryl Hayashi presents Spiders and Spider Silks: Amazing!
Hidden Worlds: High Speed Imaging of Exciting Physical Phenomena by CBU Professor Mathew Rickard
Concert Performance by the RCC Jazz Ensemble
La Sierra University Chamber Singers
Totally Science, a demonstration by General Atomics
Riverside Police Department - Reading Skid Marks...Using Math in Police Work
A coloring sheet for elementary students, with three randomly selected winners receiving an iPod shuffle
A math contest with two levels of difficulty for middle and high school students
A student art competition
A Curious Kids zone for children ages three to ten filled with fun, hands-on interactive games
A Long Night passport that school children can get stamped at the various presentations to record their attendance. The passport will be used by the children to share their experiences of the Long Night with their peers and teachers.