Food And Dining Guide
The 2022 Night of Art & Innovation will have plenty of food and dining options, ranging from low cost munchies to the finest in gourmet cuisine.
Many of the delicious Downtown Riverside Restaurants will be open for your dining pleasure during the 2022 Night of Art & Innovation. Following are a few of the restaurants that will be offering family friendly options:
L Bistro Cafe (across from Culver Center)
Raincross Cafe (In City Hall)
Mezcal Cantina y Cocina (Corner of Main and University)
Antonious Pizza Cafe (Next to Senator Roth's office)

Coffee Bean and Tea Leaf (Corner of Main and Mission Inn)
ProAbition Kitchen & Whiskey Lounge (Corner of Main and 6th St.)
The Upper Crust Sandwhich Shop (Middle of Main St. between 5th & 6th Streets)
Gram's Mission Barbecue Palace (Corner of Main and 5th St.)
There will also be other food vendors in selected areas throughout the event. A list of participating downtown restaurants and food vendors is coming soon.
In the meantime, get a head start by checking out the
Riverside Downtown Pocket & Dining Guide
: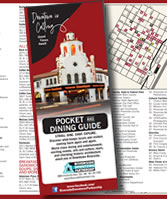 © 2022 Night of Art & Innovation